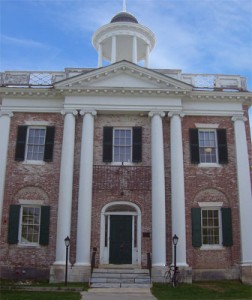 The Lenox Library is situated in the heart of old Lenox Village at Eighteen Main Street. This elegant Greek-Revival building was designed and constructed in 1816 and served as the county courthouse until 1868. The Lenox Library Association, incorporated in 1856, moved into the building in 1874, and the space has been operating as a library since that date.
From the mid-19th through the early 20th century, well-known families such as the Vanderbilts, Carnegies, Sloans, Morgans and Westinghouses established imposing summer homes here, making the name "Lenox" synonymous with culture and style. Today, the Library is designated as a National Register Historic Building.
Jeremy Yudkin's Pre-Concert Lectures at the Lenox Library continue the cultural tradition that began in the Berkshires two hundred years ago.